Integrated ACH Payments
ACH stands for "Automated Clearing House". It is an electronic debit or credit that can be initiated from any checking or savings account for either one time payments or recurring payments.
ACH is now integrated in RTO Pro. Your customers with a checking or savings account can pay their payments via ACH. They can pay by ACH on an automatic recurring basis with the built in AutoPay feature or just as a one time payment.
For ACH processing in RTO Pro you have 2 choices for your ACH provider, each is described below:
ICheckGateway
Profituity
Per transaction fee
$0.25
$0.25
Return Fee
$1.95
$1.95
Monthly Fee
$10.00 (Per Company, not store)

$10.00 Per company (not per store)

Automated NSF representment module and enhanced MyView™ online reporting included FREE!
One Time Setup Fee
$35.00
$35.00
Discount Fee
0.00
0.00
For returned ACH you can still charge an NSF fee but you are only getting charged $1.95 compared to the $10.00 to $30.00 most banks charge for checks returned to you.
For added value and efficiency, activate the optional Profituity representment module and payments returned as NSF will be automatically resubmitted for deposit up to two additional times, significantly reducing the time and effort required to collect payments.
To set up a customer to pay by ACH all you have to do is get their account and routing number, this information is saved in RTO Pro. Then set which contracts are to be paid automatically by ACH. Then when you run recurring billing you click one button and all your customers who's contracts are due to be processed will automatically be ACH Debited and their payments will be entered in 1 step. You can have 1 or 1000 customers set up for ACH and they are all processed with 1 click! Your checking account will be credited the next day for all ACH Debits processed.
ACH can also be used as a telephone authorized one time payment. If a customer calls and wants to pay by ACH you can accept their payment over the phone.
ACH Check conversion is also optionally available with the purchase of a Burroughs SmartSource Edge Check scanner. These are available for around $300.00 at http://www.burroughsstore.com or at http://www.unilinkinc.com. ACH Check Conversion or ACH ARC is where you scan checks you receive and submit them electronically through the ACH system instead of depositing them at your bank. This is included at no extra cost with the RTO Pro ACH system (except for the per transaction fee same as all ACH transactions). When a check bounces you would be charged the $1.95 returned ACH fee instead of the $10 to $30 NSF fee banks commonly charge.
For more information about ACH or to get set up call 800-351-6299
How to use ACH recurring billing in RTO Pro
Note: Customers can pay recurring billing by credit card also if you use X-Charge for credit card processing with RTO Pro. Call 800-351-6299 for more info about X-Charge.

1. When a customer wants to pay by ACH enter their ACH info: Alt-E from the Payment Screen or click on the "Credit Card / ACH Info" button on any customer screen. Click on the "Print ACH Authorization Form" button to print an Authorization form for the customer to sign.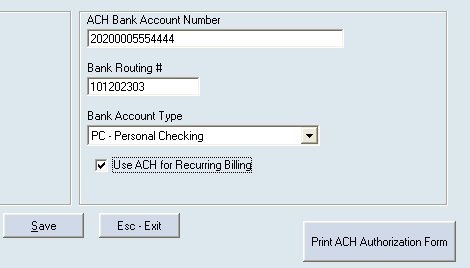 2. For each contract the customer wants to pay automatically by ACH or Credit Card enter the number of payments to pay at a time (generally 1) and how many days before they are due to process the ACH (generally 0, which would be the day they are due). You set this up in Contract Maintenance (Point of Sale Menu option 3) or push F11 twice from the Payment Screen, you can also enter this information when you load a new rental agreement.



3. Go to Autopay (Point of Sale Menu > Alt-A) and click the "Process Now" button. Anybody who is set up to pay by ACH or Credit Card will be charged and their payment will be entered in 1 step. It doesn't matter if you have 1 or 1000 customers set up they are all processed in 1 click.
The ACH funds are generally credited to your account within a couple of business days. ACH can be used for 1 time payments also.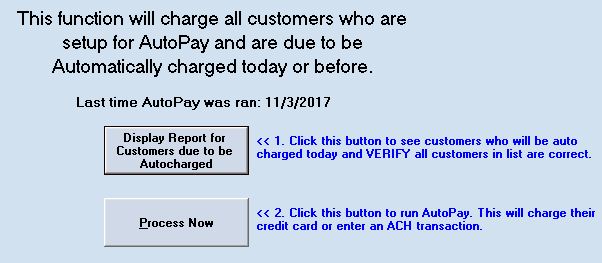 For more info about what ACH is and how it works see this link: http://www.nacha.org/c/Intro2ACH.cfm