For Windows Server 2008, 2012, 2016. Windows XP, Vista, 7, 8 and 10 (all 32 and 64 bit versions). RTO Pro Single user, Network and Central Server versions available. RTO Pro Corporate Office Edition available. See our version comparison here.

Rent to Own, Short term Rentals, Lease to Own, Federal Lease Program, Retail sales, Revolving Interest Sales and Installment Loan Sales.

RTO Pro comes with a utility to make it easy to load existing contracts and their payment history. This utility is included with RTO Pro for FREE! Remember we also offer DATA CONVERSION from most other software.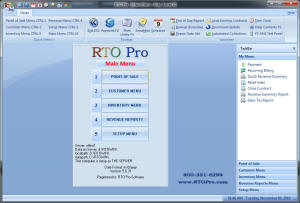 Easy to use familiar Windows interface
<< Click on the thumbnail for a full size screenshot.

RTO Pro can be used on almost any mobile device with internet access, including Apple and Android based tablets and phones. Click here for more info.

Multi store chains can take payments for other stores.

Companywide master inventory lookup for multi store chains. Click here to see a demo of how this works.

Online Payments interface allows your customers to pay securely online via credit card or ACH.

Take customer applications on your website and automatically import into RTO Pro as a pending application.

SMS Texting Service allows you to send and receive SMS text messages through RTO Pro.

RTO Pro is "Cloud Ready". The Network and Central Server licenses of RTO Pro can be hosted in the "Cloud". Note we do not provide hosting services but there are thousands of cloud providers available, including very popular ones like Amazon EC2, Rackspace and Godaddy.

Complete Inventory Purchase Order System at Corporate Office level and Store level.

Automated Inventory Transfers by Internet FTP.

Purchase Order Inventory system for RTO Pro and Corporate Office.

AutoPay...Automatic recurring payments by Credit Card or ACH.

Automatically email receipts to customers. Ability Email letters, invoices and late notices also.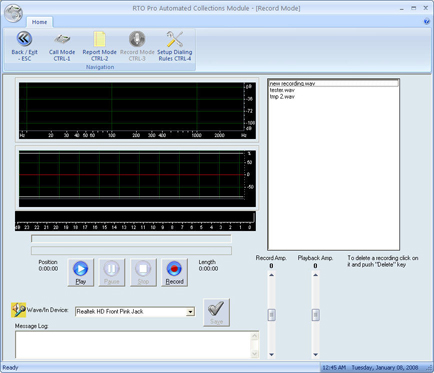 Automated Collections Module, an automated voice broadcasting / dialing system that can be used to call late customers with options for different messages for different due date ranges. It can also be set to call all customers for promotion purposes. This is not like the voice dialing systems most other companies offer, there is a 1 time charge of $399.00, no monthly fee or per call charges.

Revolving interest credit accounts, Installment Loan accounts and Installment Agreement printing.

Flexible Payment Screen brings up the total amount currently due and allows you to take change the amount to be paid, the number of payments to be paid or the due date to pay through, even for multiple contracts.
In one transaction you could do the following as an example. If a customer has 4 contracts.

1st Contract: Pay 1 payment on this contract

2nd Contract: Pay 2 payments on this contract

3rd Contract: Pay $15.00 on this contract

4th Contract: Pay so it will be due the 15th of next month

This can all be done in 1 transaction!

For each contract you can set the total to be paid, the number of payments to be paid or the due date to pay through.

Integrated full featured Scheduler/Calendar for deliveries, pickups and service calls. Manage schedules for up to 8 different drivers / vehicles. Set reminders and print customizable delivery and pickup forms.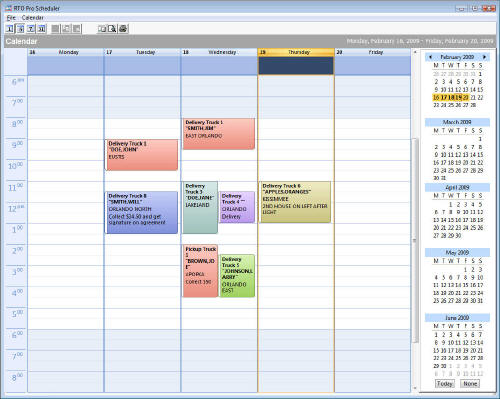 < Click the picture for a full size screenshot.

Ability to print different contracts for different contract types. Ability to reprint contracts on demand. Ability to print different contracts automatically for the state the customer lives in.

WYSIWYG Word Processor built in for creating and editing contracts, letters, price tags and labels.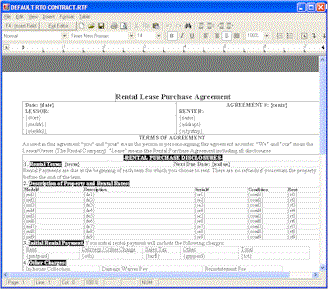 Contracts can be laser printed (or using any type of printer) on plain paper or filling in the blanks on form type contracts.

Integrated Credit Card Processing



Integrated ACH, electronic debit from checking or savings accounts.

Integration with QuickBooks, Quicken and other popular accounting software.

Print Bank Deposit Slips. When you run the End of Day you can set up RTO Pro to print your bank deposit slip for you, complete with check information.

Document Imaging; Scan drivers license, rental apps, contracts etc. or use a web cam take pictures of customers and store with customer records.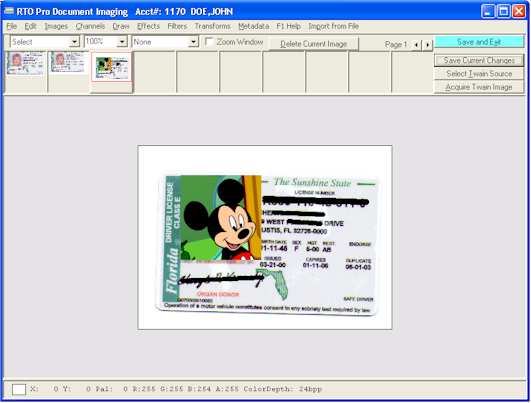 Complete Inventory control. Serialized and Non - Serialized inventory.

Integrated Time Clock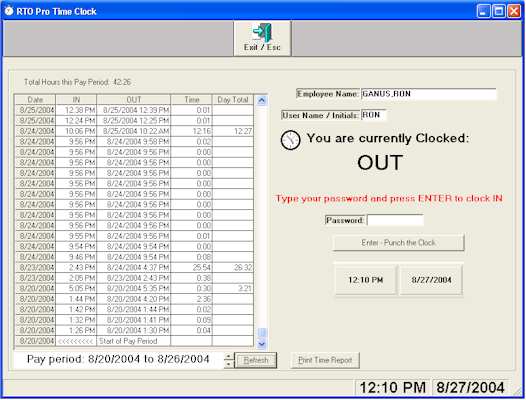 Compatible with Destination Based Sales Tax states, including states with special tax districts. RTO Pro can handle and track sales tax for state, county and city as well as up to 3 special tax districts, for states like Texas. This is for states that require you to collect tax based on where merchandise is delivered instead of where your store is located.

Inventory Depreciation for Tax and Book accounting.
Types of depreciation that can be used with RTO Pro:
1 = 'Term of Lease' Straight Line over lease term : This is straight line depreciation over the term of the lease.
2 = 'Modified Term of Lease' No Depr. while In Stock.: Same as above except when an item is returned to stock it does not depreciate.
3 = 'MACRS GDS 200DB HY Convention 5 Year Recovery Period: Modified Accelerated Cost Recovery System, General Depreciation System with 200% declining balance method (200% DB) over a 5-year recovery period.
4 = 'MACRS GDS 200DB HY Convention 3 Year Recovery Period: Modified Accelerated Cost Recovery System, General Depreciation System with 200% declining balance method (200% DB) over a 3-year recovery period.
5 = 'Straight Line from date received' # of months is changeable: This is straight line depreciation from the date received, you select the number of months for recovery period.
6 = 'MACRS GDS 200DB HY Convention 2 Year Recovery Period: Modified Accelerated Cost Recovery System, General Depreciation System with 200% declining balance method (200% DB) over a 2-year recovery period.
7 = 'MACRS GDS 150DB HY Convention 3 Year Recovery Period: Modified Accelerated Cost Recovery System, General Depreciation System with 150% declining balance method (150% DB) over a 3-year recovery period.
8 = Income Forecasting Depreciation type now available.

Should you need a different type of depreciation let us know and we can customize it for you.

Inventory Transfers for Multiple Stores.

Print Inventory Labels and Price Tags.


Barcode inventory control with inventory control module (FREE with RTO Pro).

Print Mailing Labels and Form Letters.

Built in Calculator. On numeric fields you can bring up the calculator simply by pushing an operand key (+ - / *). For instance you could type in 20 and the "*" key (for multiply), the calculator would be displayed, then type 1.07 and press enter, the total of 21.40 would be pasted to the text box you started typing in.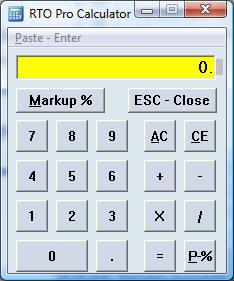 Built in Calendars. On any date fields you can press "C" to display the calendar to select a date, you can also use the + or - keys to advance or move back the date displayed.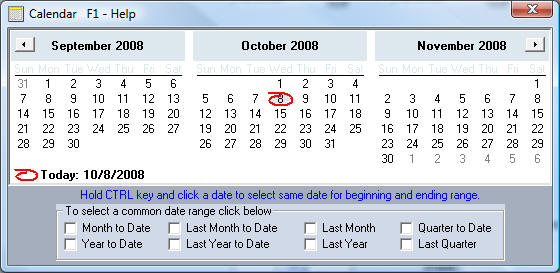 Corporate Office Software Available.

Security features and Password Protection, you decide how much you allow employee access to.

Print Customer Mailing Labels using many popular label sizes and layouts. Customer selection for the labels can be done by status (I.E.: Open, Paid Out etc.), by contract or closed date, or by # of months remaining.

On Screen Account Management. Makes account management easier and faster. No need to print a late report everyday and transfer comments, with this you do it right on the computer and comments are saved automatically!

Print or Email form letters for collections or promotions. Send Emails to all of your late customers or do Email blasts for all of your customers!

Billing, automatically mail or Email customers invoices or statements monthly.

Automatic Late Fee Capability, including separate late fee structures for multiple states.

Support for small receipt printers. You can print receipts on 3" roll paper printers. Star TSP100 Receipt Printer

Revenue Reports, Comparison Reports, Projection Reports, Performance Reports.

BOR / Income Report / Graphs with APU figures.

Daily Income and Deposit Reports. RTO Pro comes with a utility that allows you to enter your nightly deposit and any cash payouts etc. then will print a report and save a file which can be faxed, e-mailed, FTP'd or sent by modem to a corporate office.

Should any custom reports be required data can be retrieved using Windows programs such as Microsoft's Access, Word, and Excel.

Sales Tax Report, makes it easy to fill out your monthly sales tax returns. Compatible with Destination based sales tax states.

Customer List Reports.

Customer applications can be taken directly in RTO Pro, including reference information.

Customizable Inventory Reports.

Management Tracking Report. Click here for a sample in PDF Format.

Delinquency Analysis Report. Click here for a sample in PDF Format.

Inventory Agent Flips. Transfer inventory from your retail financing agent to your rental agent and print a report with all the details. Along with the depreciation reports this makes depreciating inventory automatic!

Printing options for up to 6 printers. Have a different printer print receipts, reports, invoices and contracts, no need to change paper constantly in one printer.

Inventory Switchout on open Contracts. You don't have to close out a contract and reopen to switchout a piece of inventory.

Contract Maintenance on open contracts, you can change the payment amount, terms etc. without closing the contract.

Auto Dial in On Screen Account Manager (Windows 95 Version only). When calling late customers RTO Pro will dial the phone for you, call through the lates in record time.

Quick keys to get to Payment Screen from anywhere.

Display or Print all Reports.

You can specify different Sales Tax Rates for each contract and sale.

From the payment screen you can pull up Contract Detail Info and also Inventory Detail Info without exiting payments.

Automatically moves dates partial periods for partial payments.

When you take payments on customers with multiple contracts you can specify different payment amounts, # of payments or date to pay through for each contract.

Send out Late Notices and letters from On Screen Account Manager.

Create and Print Letters with the internal editor or use Microsoft Word to create letters and print through RTO Pro.

Personalized Messages on Receipts.

Printing Utility to reprint receipts and reports, even partial reports.

BOR Reports.

Integrated DataTrue reports.

"Preferred Customer Club" features.

No required nightly closing procedure, just turn off the computer and go home! (We do have an End of Day report if you want to run a summary of your days revenue and track your bank deposits)

SQL Server Database

Automatic Database Utilities to rebuild and Compress Databases.

Up to 10 open contracts per customer with up to 10 inventory items on each contract.

Unlimited number of customers.

Toll Free Support
RTO Pro is integrated with features for DataTrue, Benefit Marketing Club, Central File and Inform. Information about each is below.
---

DATATrue™ is proud to have joined forces with RTO Pro Software with a fully integrated/interfaced process for front end information verification and access to DATATrue™ powerful support system! Mutual RTO Pro/DATATrue™ clients can now enjoy a simple push of a button process, eliminating the need to double enter data to realize immediate verification responses. In addition to the information services now accessible as part of your RTO Pro Software package you can find many other equally powerful and valuable services such as skip tools, Alert1One™ (The first National Skip-Stolen Database), Banking Products (ACH/EFT/RCK/Credit and Debit Cards/Automated Payment Programs and Consolidated Returns), Criminal Background Checks and DMVR's for your HR needs and much more by going to www.datatrue.net or contacting DATATrue™ at sales@datatrue.net or call 209.951.9375.
---

RTO Pro is compatible with InForm Business System's "Digital Rental Agreements". For a small annual fee Inform provides a digital image of the InForm Trademarked Rent To Own Rental Agreement for your state and InForm will maintain and update that agreement should any changes be made to the legislated requirements of this rental agreement which affects its content requirement. InForm will retain competent legal counsel, familiar with the rent-to-own and rental-purchase industry, to monitor and advise us of changes to these legislated requirements. Visit www.rtoforms.com or call 888-786-3676 to find out more about this valuable service.
---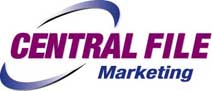 Central File, Inc. Your source for - Complete Direct Mail Marketing! Can be reached at: (800) 749-6245 or online at www.centralfileinc.com. E-mail them at dan.costello@centralfileinc.com.
RTO Pro can create mail lists for Central File.
---

Benefit Marketing Solutions is a leading provider of the most distinctive and innovative membership programs available. Our programs create a win/win for your company as well as the customers you serve. They build profit and growth without risk while encouraging loyalty and repeat business. Our Best Bar None product and service pledge assures that you'll have the best products backed by exceptional service.
To learn more about what Benefit Marketing Solutions can do for you and your customer, please call David Kaye or Susan Matthews at 888-322-6705. Feel free to visit our website at: http://www.benefitmarketingsolutions.com
---
All this without
breaking the bank!!
But Don't take our word for it, try out the demo and see for yourself.
This demo has all the features of the full version except you cannot customize it for your store and when you load contracts they are not saved to the database.
We are always updating RTO Pro and adding new features to it, so if you need some features that aren't on it now contact us and we may be able to add it on in the future.
If you would like to place an order or have any problems, comments or suggestions feel free to call.
800-351-6299
E-Mail: Sales@rtopro.com