Cloud Based Automated Collections Module / Autodialer
---
The RTO Pro Cloud Automated Collection Module (ACM) is a program available to use with RTO Pro. The ACM is a Cloud Based Voice Broadcast Automated Dialer system that will call your overdue customers or any customers due in any given date range you enter and play pre-recorded messages. It also has built in message recording and management so you can record any number of messages and play different messages for different due date ranges and also optionally a different message for broken commitments. You can also use it for marketing and promotions and set it to call customers who are not overdue or even all customers in your database. The ACM can also be set to run automatically on a schedule completely unattended. When automated it will start at the designated time, create a new call list from a saved template and then start calling, all without any end user interaction.
The only requirement to use the RTO Pro Cloud ACM is internet access, it does not use your phone lines so no modem or additional hardware or phone lines would need to be installed.
You can record messages with any computer with a sound card with a microphone input.
The Automated Collection Module can also be used to send Text Messages if you have a text message account with RTO Pro. For more info about RTO Pro Text messaging click here.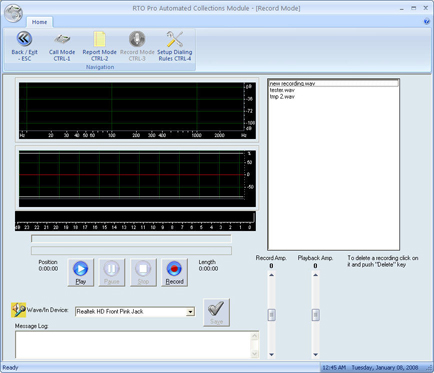 This program will save you lots of time and money by calling and/or texting your overdue customers for you. ACM will run completely unattended once started. It can also be setup to run completely automated on any schedule by setting up a windows task, which can be done easily in the ACM setup page.
The Cloud Automated Collections Service is available now for $30.00 for the first 600 minutes and .05 per minute after 600.
The ACM can be used for:

Collections

Promotions

Marketing Calls

Lead Generation

Voice Broadcasting

Text Messaging
Not a RTO Pro user? The RTO Pro ACM can be setup to to import data from just about any data source and call customers from any software you may be using.
For more information call 800-351-6299.
Click here for complete price list.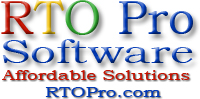 NOTICE:
RTO Pro Software does not provide legal advice and makes no representation nor assurance as to the legality of the use of its Autodialer or any other services which RTO Pro may provide that allows you to contact your customers or potential customers. These services are provided as-is and you are solely responsible to determine the legality of the use of these services. RTO Pro Software urges you to obtain a legal opinion from your counsel as to specific regulations in the states in which you operate. This advice should be updated annually.

Below are screen shots and the help page for the ACM.
The Automated Collections Module (ACM) is used to automatically dial your customers and play a pre-recorded message. It has a recording mode built in that you can use to create the recordings you wish to use. Once started it will dial all the customer in the list you create unattended.
You can create customer lists to call by entering up to 5 different due date ranges and selecting the message you wish to play for each date range. You can also setup a different message for broken commitments if you wish. You can also setup dialing rules so the ACM knows how to dial your customers phone #'s (when you have to dial a 1 or the area code).
The ACM will work with any voice modem for dialing your customers and with any sound card with a Microphone input for recording the messages. (Most computers come with voice modems and sound cards with Microphone inputs)
Directions for each mode are below.
In dialing mode a grid will be displayed with the customers in the call list. The fields are explained below:
"Record" is the record # in the grid.
"Account" is the customers account number in RTO Pro
"Customer Name" customer name
"Message Status" this is the status of the message for this customer, see below for status's.
"Status Date" this is the date and time the status was reported
"Message" this is the message that will be played when calling this customer
"Phone#" customers home phone # from RTO Pro data
"Cell#" customers cell phone # from RTO Pro data
Message status's
"Not Called"means nothing has been done yet with this customer
"Called, Busy" their # was called and it was busy
"Called, N/A" their # was called and there was no answer
"MSG Delivered" the message was delivered
"Paid" since the customer list was created this customer paid or gave a new commitment
When you click on the" Begin Calling" button the ACM will start dialing customers in the call list. When customers are called their record will be highlighted and also the message status box will display call info. As messages are delivered the status will be updated.
If a customer gives a new commitment after the call list is crested they will not be called, also if they pay a payment on any contract after the call list is created they will not be called.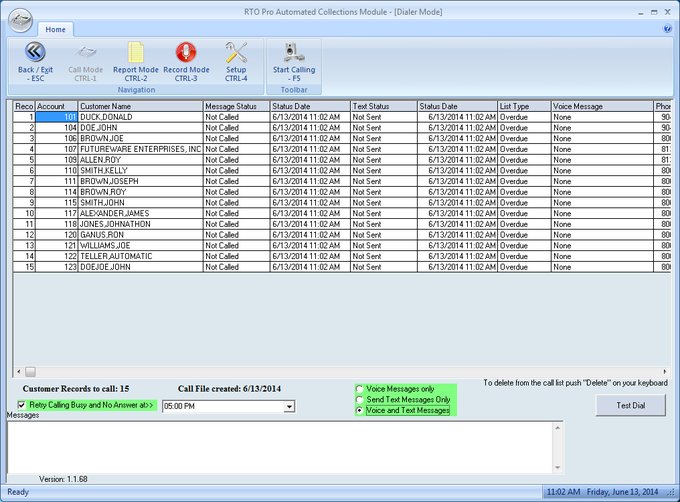 In Report Mode you create call list by entering up to 5 different due date ranges and selecting the message you wish to play for each date range. You can also setup a different message for broken commitments if you wish.
The priority is from top to bottom, so if the date ranges you enter includes the same customer in 2 different ranges the topmost range is the message that would be played for that customer.
Each customer will only be placed in the call list 1 time even if they have multiple contracts that fall into different ranges. If a customer has a current commitment they will not be included in a call list. For the broken commitment section if the customer has paid on or after the commitment date it will not be considered a broken commitment even if the customer is still overdue.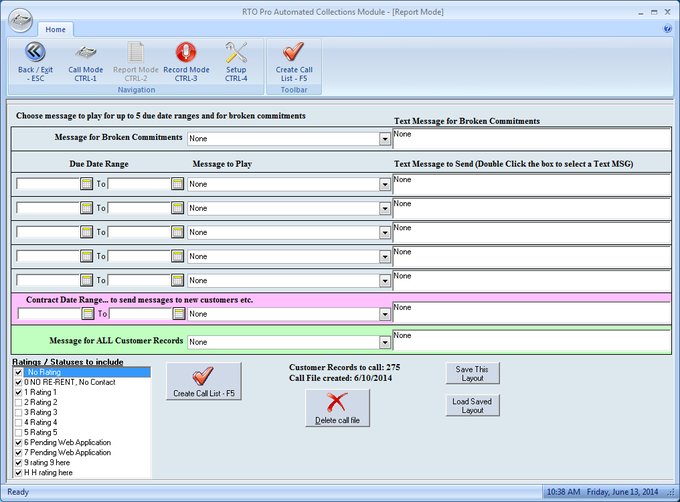 In Recording Mode you can create and manage messages to be played to customers.
To create a new recording you need to have a microphone plugged into the Mic input for your sound card, select your sound card device in the dropdown list and then click on the "Record" button. When you are finished recording click "Stop" then click on the "Save" button to save it. You will be prompted to enter a filename and the recording will appear in the recording list on the top right of the screen.
To delete a recording select the recording you wish to delete and click the "Delete" key on your keyboard.
You can also play any recording in the recordings list by selecting it and pushing the "Play" button.
The recordings you create will be available to select from the Report Mode.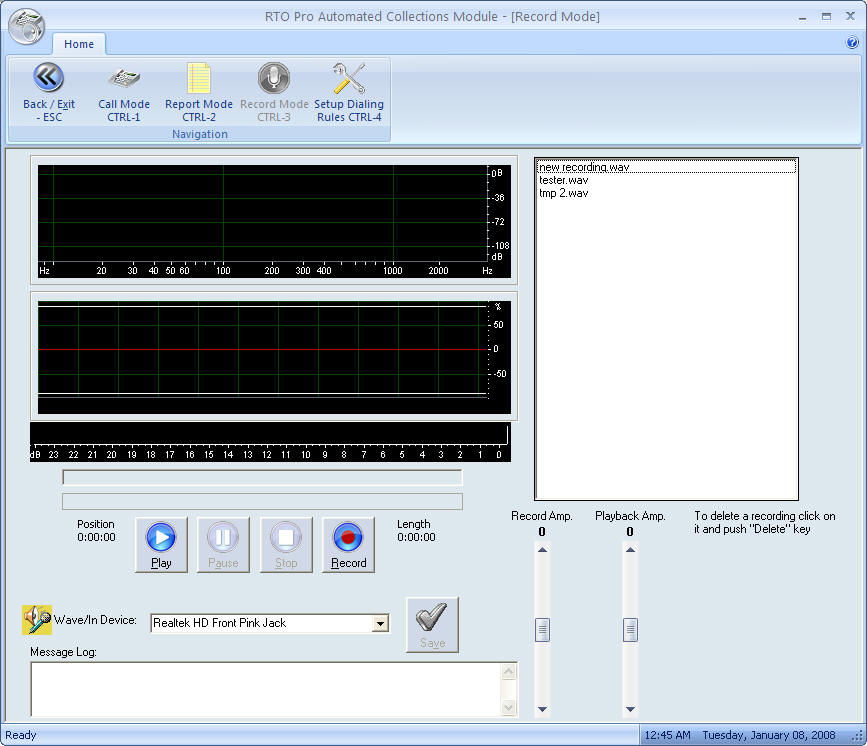 The Setup Mode is where you setup options for the Automated Collections Module. You can also setup the ACM to run completely automated from this screen.